The European Cancer Centers' Scientific Committee brings together a group of medical experts chosen for the excellence they have each demonstrated in the different specialties of oncology. The Scientific Committee works to set priorities in the following areas:
Treatment Strategies: the Scientific Committee takes part in formulating the treatment strategies to be implemented throughout European Cancer Centers' facilities.
Research Strategies: the Scientific Committee participates in the evaluation and follow-up of European Cancer Centers' projects concerning clinical, epidemiological and basic research.
Training Strategies: the Scientific Committee monitors the relevance and the effectiveness of training programs, implemented by European Cancer Centers and its partners, which lead to a qualification or diploma.
Members :
Professor Matthieu Allez
Professor Matthieu Allez, MD PhD, is the head of the department of gastroenterology at Hôpital Saint-Louis (APHP) in Paris, which is a tertiary center for the management of inflammatory bowel disease (IBD expert center) and digestive cancers. He is also leading a research unit (INSERM) dedicated to the understanding of the "Immunopathology of inflammatory bowel disease". He is actively participating to many clinical trials, for some of them as a principal investigator. He published more than one hundred articles and book chapters.
Matthieu Allez graduated in Gastroenterology in 1995. He spent two years as visiting associate in the department of Immunobiology at Mount Sinai (New York, USA) (2000-2002). He was promoted professor of Gastroenterology at Paris 7 University in 2006.
He was elected in 2008 in the scientific committee of ECCO (European Crohn's and Colitis Organization), became chair of the scientific committee of ECCO and the scientific officer of this organisation (2010-2013).
He is co-founder and president of the group REMIND which associate more than 20 departments of Gastroenterology and laboratories.
Professor Farhat Ben Ayed
Professor Farhat Ben Ayed has taught medical oncology at the Tunis Medical School (Tunisia) since 1985.
After his medical training at the Montpellier medical school and at the Gustave Roussy Institute in Villejuif (France), he served as the head of the medical oncology department at the Salah Azaiez Cancer Institute (Tunisia) from 1985 to 2005.
Professor Ben Ayed is President of ATCC (Tunisian Anti-Cancer Association) which he founded in 1987, of ATSP (Tunisian Palliative Care Association) (2000) and is a founding member of ALIAM (Alliance of French-Speaking African and Mediterranean Leagues Against Cancer) (2009). He is President of a chapter of the International Association for the Study of Pain (IASP).
He is also a lead investigator and director of several national and international research projects. In particular, he directed the WHO's TUN/CAN cancer project in 2001; served as an expert for EMRO, the WHO's regional office, from 1995 to 2005; and is a member of the board of the Union for International Cancer Control (UICC),
A pioneer in the tobacco control movement who also initiated Tunisia's cancer plan, Professor Ben Ayed has authored many articles for scientific journals and other publications. Since 2002, he has been responsible for more than 70 continuing education courses and has taught oncology in the Maghreb region in connection with the Euro-Arab School of Oncology, an educational collaborative activity of the European School of Oncology (ESO).
Dr. Emmanuelle J. Meuillet
Emmanuelle J. Meuillet, Is a Scientist and Teacher who holds a PhD in Biochemistry and Pharmacology from the Louis Pasteur University in Strasbourg (France). She completed a post-doctoral fellowship at the Childrens' Memorial Hospital at Northwestern University (Chicago, IL) and serves as Associate Professor at the University of Arizona Cancer Center.
Since 2000, her research program has been continuously funded by the National Institute for Health (NIH), by the State of Arizona and by several foundations including the Hirshberg Foundation for Research on Pancreatic Cancer.
Her research resulted in co-founding a biotech start-up Phusis Therapeutics, Inc. (San Diego, CA) in 2009.
Back in France since February 2014, Emmanuelle has set up a research program, funded by the "Toulouse Cancer Santé" Foundation, at the Institute of Advanced Technologies for the Living (ITAV) located within the Toulouse Oncopole campus. The topic remains in oncology and more particularly on the metastases of aggressive cancers.
In April 2016, she founded Theraxen Technologies, which validates her work with the support of the SATT of Toulouse, Toulouse Tech Transfer and holds 2 patents.
Emmanuelle Meuillet is on a regular basis consulting and providing her expertise for the NIH, DoD, foundations and various organizations in the US and Europe. She is the author of more than fifty manuscripts and reviews on cancer and belongs to several editorial boards for specialized cancer journals.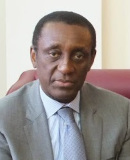 Docteur Guy Sandjon
Professor Elisabete Weiderpass Vainio
Professor Elisabete Weiderpass Vainio, MD, MSc, PhD, is a professor of medical and cancer epidemiology at the Karolinska Institutet in Stockholm (Sweden), and a senior researcher at the Cancer Registry of Norway in Oslo. She is also actively involved in research and training at University of Tromsø, and Samfundet Folkhälsan in Helsinki.
Elisabete serves as an expert in several scientific committees and advisory boards of organization, such as at the International Agency for Research on Cancer, World Health Organization, World Bank, Bill and Melinda Gates Foundation, World Cancer Research Fund, Norwegian Research Council, Norwegian Program for Global Health and Vaccination (GLOBVAC), Danish Cancer Society, French National Cancer Institute (INCA), French INSERM, French Agence Nationale de Sécurité Sanitaire (ANSES), French Institute National Recherche Securite (INRS), French Foundation for Cancer Research (ARC), and Center of Diseases Control (CDC) in Gansu Province, China.
Elisabete has been frequently invited as a speaker in international cancer conferences, and acts as a cervical cancer prevention activist.